SAUNA
The Sauna is an important part of the Finnish culture. We offer several sauna alternatives to our customers. You can find saunas in the guest harbour, in the Caravan area, in our suites and of course in our spa. Not to mention our popular beach sauna with hot tubs.
Private sauna
In the spa we have a private sauna for up to 6 persons for rent. It is an excellent alternative for spending quality time with your family or friends. From the private sauna there is direct access to the pool area. The private sauna can be booked in advance or on spot. Price 39 € / 2 h + entry fee to the spa.
Steam room
In the spa there is a steam room with eucalyptus scent. Like in the traditional sauna you will get the same feeling of a clean and fresh skin and recreation for your all senses. The temperature is around 45 degrees.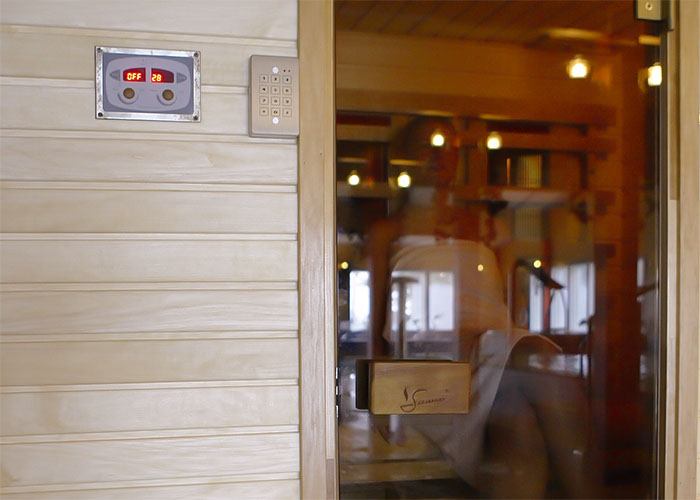 Infrared sauna
Reduce stress and fatigue in our IR-sauna. Bathing in the IR-sauna can relieve joint and muscle pain, strengthen the immune system and lower blood pressure. You can book the IR-sauna in our reception. Price 10 € / 1 person, 18 € / 2 persons, 20 € / 3 persons. A water bottle and a towel are included in the price.
Beach sauna Neptun
The beach sauna is suitable for meetings as well as for birthday celebrations. Enjoy the night sky and stars in midwinter from the hot tub or admire the beautiful sunset at the terrace. There is one sauna and one dressing room, two hot tubs, a terrace, a gas grill and a combined living room and kitchen. You can order food from the restaurants sauna menu for or throw a barbeque evening with your friends. Dinner can be arranged for up to 14 persons. There is also a Chrome Cast device available at the beach sauna.The price for the sauna with hot tubs is 35 € / person (minimum 350 €) / 3 hours, only sauna 25 € / person (minimum 250 €) / 3 hours.
Barrel Sauna Nordwest
You can book the barrel sauna Nordwest at the hotel reception for 35 € / 1.5 hours.
At the barrel sauna you will experience traditional archipelago sauna with wood burning stove, from where you can take a dip in the sea using the swimming ladder. To experience a traditional Finnish sauna moment, customers may heat the sauna themselves.
Welcome to enjoy a traditional barrel sauna with a stunning sea view.